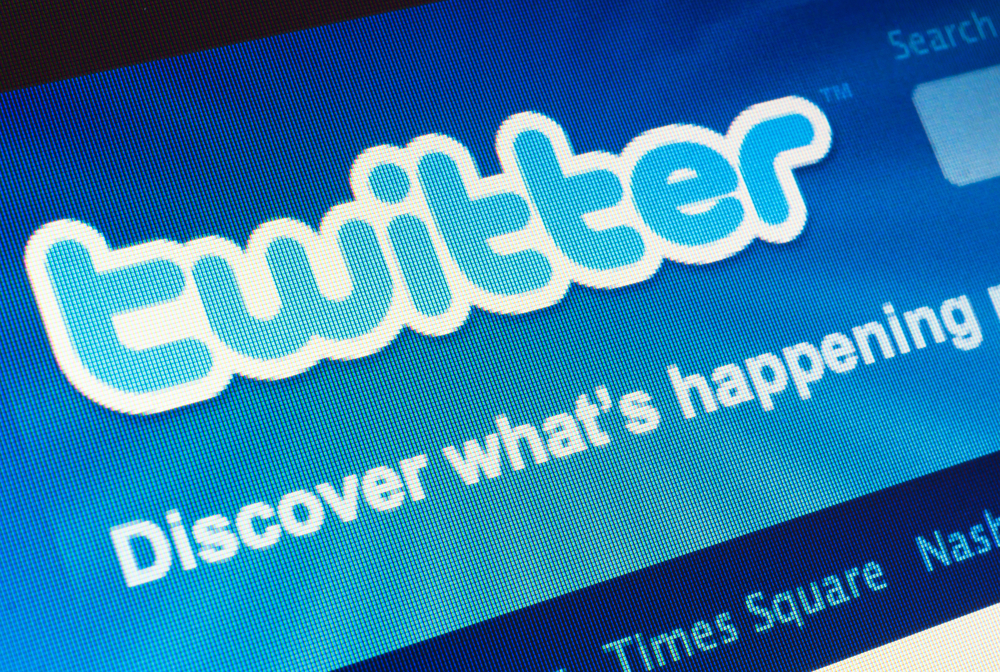 Why auto-posting to Twitter is a bad idea
I've heard several people ask how they can go about auto-publishing their Facebook content to Twitter. I get the appeal: Social media takes time, and automating some of the work could definitely be helpful.
Yes, auto-posting from Facebook to Twitter is possible. But I don't recommend it, and any social media professional worth her salt will tell you that auto-publishing your Facebook content to Twitter is a bad idea. Here's why.
Facebook and Twitter are two different platforms with different purposes, and you should have a different content strategy for each.
Facebook vs. Twitter
Facebook and Twitter are two different platforms with different purposes. Let's take a look at some of these key differences:
Twitter skews younger. A lot of people under the age of 30 are abandoning Facebook due to the influx of older relatives. While the average age of Facebook users has been going up, the average age of Twitter users has been going down.
Relationships on Twitter and Facebook are different. Most people use Facebook to connect with friends, family, and other people they know in the real world. Offline relationships are less common among Twitter followers, and interaction there tends to be less personal.
Twitter posts have a shorter lifespan. Facebook posts can spur conversations that can go on for days. But on Twitter, most activity on a post happens within the first hour. Twitter is better for time-sensitive information, while content shared on Facebook should be more evergreen.
Post frequency differs. Because Twitter posts appear in real time, it's acceptable to post several times per day. Facebook, on the other hand, uses an algorithm to determine which content to display in users' News Feeds. That means if you post something on Facebook at noon, your followers may still see it even if they don't log into their accounts until later that evening. On Twitter, that is less likely.
Peak traffic times differ. While peak engagement times for your own channels will vary, and should be monitored through your Facebook Insights and Twitter Analytics, in general, Facebook traffic peaks between 1pm and 4pm, while Twitter traffic is highest between 9am and 3pm. Again, test and monitor your own content to see what works best for you.
Twitter and Facebook use hashtags differently. Just as tweets are posted in real time, clicking on a Twitter hashtag will show you live results of tweets using the same hashtag. But Facebook uses its own algorithm to determine what individual users will see when they click on a hashtag. So if you're using hashtags, it may make sense to tailor your strategy differently for each platform.
More reasons NOT to auto-post to Twitter
If the above isn't enough to convince you that you should have different content strategies for Facebook and Twitter, let's take a look at what happens when you auto-post your Facebook content to Twitter.
Facebook content gets truncated on Twitter. Because Twitter posts are limited to 140 characters, anything longer will be automatically truncated. That means your audience will have to click on the Facebook link to read the entire post, which may then ask them to click on a link to your blog or another website, and that can be annoying.
You lose the ability to tag other Twitter users on your post. If I'm posting someone else's content on Twitter, I always like to tag them with their Twitter handle, but this doesn't really work if the content is auto-posting from Facebook.
Your profile becomes full of fb.me links, which makes it pretty clear that you aren't focusing on your Twitter strategy and can even make you look lazy. I'm looking at you, Reid Tracy. Plus, there's no reason for someone to follow you on Twitter if they can clearly see that all of your content is coming from Facebook.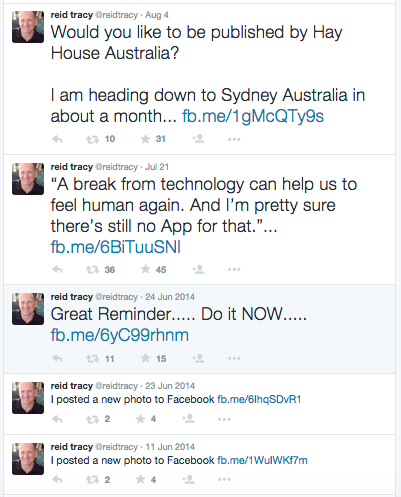 I'm only sort of picking on the CEO of Hay House. He admitted at a recent Hay House writers' workshop that Twitter isn't effective for reaching Hay House's audience. This makes sense because, as we saw earlier, Twitter skews younger, and the typical demographic for the self-help industry is middle-aged women, who are more likely to spend time on Facebook. If a certain platform doesn't make sense for your target market, then you absolutely don't have to use it. But if you do use it, and intend to build a following with it, then make sure you use it correctly.
Other ways to simplify your social media marketing
So if auto-posting is off the table, what else can you do to simplify your social media efforts?
Schedule posts in advance. Sign up for a social media scheduling / monitoring platform such as Hootsuite — it's free, and it allows you to publish to various channels and schedule posts in advance so that you don't have to log into all of your accounts every day. You can set aside time during the week to draft and schedule multiple social media posts so that you can do much of the work in one sitting (although it's still a good idea to keep an eye on things throughout the week to reply and retweet at necessary).
Tweet stuff you're reading anyway. Chances are, you're going to run into content throughout the course of your day that will appeal to your target audience. Most websites have social share buttons that allow you to easily post the article to your own social media channels. These buttons will usually open a pop-up box with pre-filled content, which you can edit as necessary. (Make sure you include social share buttons on your own website or blog!)
Repurpose your content. Get more mileage out of the work you do by reusing your own content in different ways. When you write a blog, create a corresponding visual that you can post on Twitter or Instagram. Write a series of blog posts and rework them into an ebook. Take a well-performing blog and use the highlights to create an infographic. You'll save time by not having to research and write everything from scratch.
Be consistent. I have gone months neglecting my Twitter account, but I find that whenever I start tweeting regularly again, I get new followers every day. Taking just a few minutes a day to monitor your Twitter and do some retweeting can have a big impact.
Go where your audience is. If your target audience is middle-aged women, for example, it might not make sense for you to spend time on Instagram. Maybe your audience spends more time on Pinterest. Pick one or two channels that are best for your audience and focus your efforts there.
Need help with your social media or content strategy? Contact me with your online marketing questions.